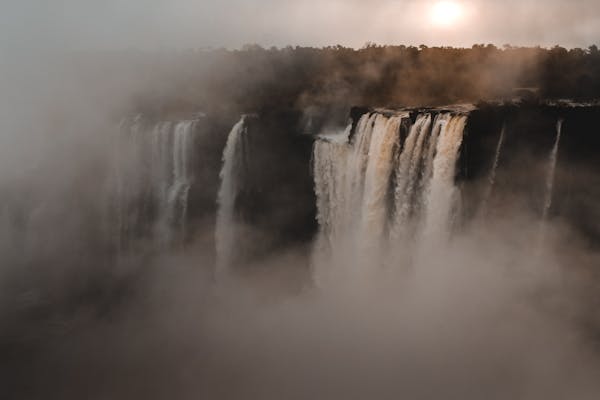 I am Victoria Falls
Nothing stops my flow
No man can ever keep me
From getting where I need to go
I was raised in the Mojave Desert
In low-income housing
Got my first full-time job
At Mcdonald's, age 15
Fell in love with the line cook
Working with me
He didn't speak English, but I quickly
Learned to speak Spanish fluently
Four years later, I am the one who miscarried.
We hadn't even known I was pregnant
His family said it was punishment from God
From cohabiting before we were married
But I know that that's not true
It's just the course of nature
I don't feel guilty
I am not the tormenting pain that followed
But I am the one who tried to escape this life
The Universe decided that it wasn't my time
So I am the one who got back up
And faced the world again
I am a perennial succulent
Blooming year after year
Even when I look wilted
I'm still coming back to life
I'm the young woman who got into the UC
When it felt like the world still believed in me….
But I'm also the one who dropped out
And yes, I picked up an associate's in the humanities
I always forget but, I think it's in social studies?
I still feel incomplete without my bachelor's degree
Which I've wanted since I was four years old.
I am the source of life
Who created another inside of mine
Nine months of illness, surgery
Six months of hair loss, restless sleep
All worth it to watch her grow from nothing but
The power inside me
I am the one who went back to school
Who held her baby, staring at the screen
Noticing I had the highest grade in the class
While he ranted in front of us, throwing things, screaming
I am the one who left
Even though it felt like murder in my chest
My network helped me leave him in the middle of the night
While he was upstairs, fast asleep
I am the peace that followed
That first night on our own
She and I watched the thunderstorm in silence
Grateful for how tame it felt, compared to his cyclones
I am the one who got into the competitive nursing school
When people were saying it was too late for me
I'm the one who held hands of men who were dying
I'm the one who held their children when they were gone
I'm the one who got kicked out of nursing school.
We all knew it would be someone
But none of us thought it would be us
And especially not me.
I was the class president.
I had the highest grade in med/surg
I worked so hard to get there…
I had just been diagnosed with MDD and GAD
They said it was unrelated,
That it was because I turned a paper in
Three hours late.
Who would have thought that nurses
Would illegally discriminate?
I am the one who fought back
Who got re-instated, but then left anyway
It broke my heart to fight for a home where I wasn't wanted
Again
I am the one who went back to work
Fixing computers, waiting tables, working the register
Whatever I had to do to get by
Even some things that I barely survived
I am the one who broke down
Job after job, loss after loss
Life getting darker every single day
That's where the wolf found me
Desperate for salvation
So he promised me salvation
Then sacrificed me
Ended up
In the emergency room
With PTSD
The whole world just went black
I was the crushed little victim girl
Surrounded by the mother hens clucking,
It's going to be alright
Labeling me a "survivor"
As if that made it a good thing
Labeling me a "warrior"
As if that made it all okay
Calling me "brave"
As if I'm the one who chose this fate
"Resilient" every nerve in my body is on fire
"Strong" I wake up wishing I didn't
"Inspiring" as if you want this for yourself
"Powerful" when the world has pity in her eyes
All these pretty labels
Were ugly little lies
Why was I expected to feel warm
Under those gas lights?
Yet, I am brave
Because I chose to walk through the lies
I am the warrior
Who stayed alive through those dark nights
I am not the flashbacks
I am my own nurse
I take the best care of myself
Because I'm the only one who can
I am not the dissociation
I am the gentle voice who calls me back
I am the powerful one
Who holds her mind in her body
When it's bursting through the seams
I am the healer
All those years I spent
Wanting to care for everyone else
I now give to myself
I am the one
Going back to school
Again
This is my story
A mini autobiography
I'm broken, repaired, and still growing
My name isn't Sylvia
It's Kintsugi
Written for Reena's Xploration Challenge #244